Signature SG Systems Preamplifier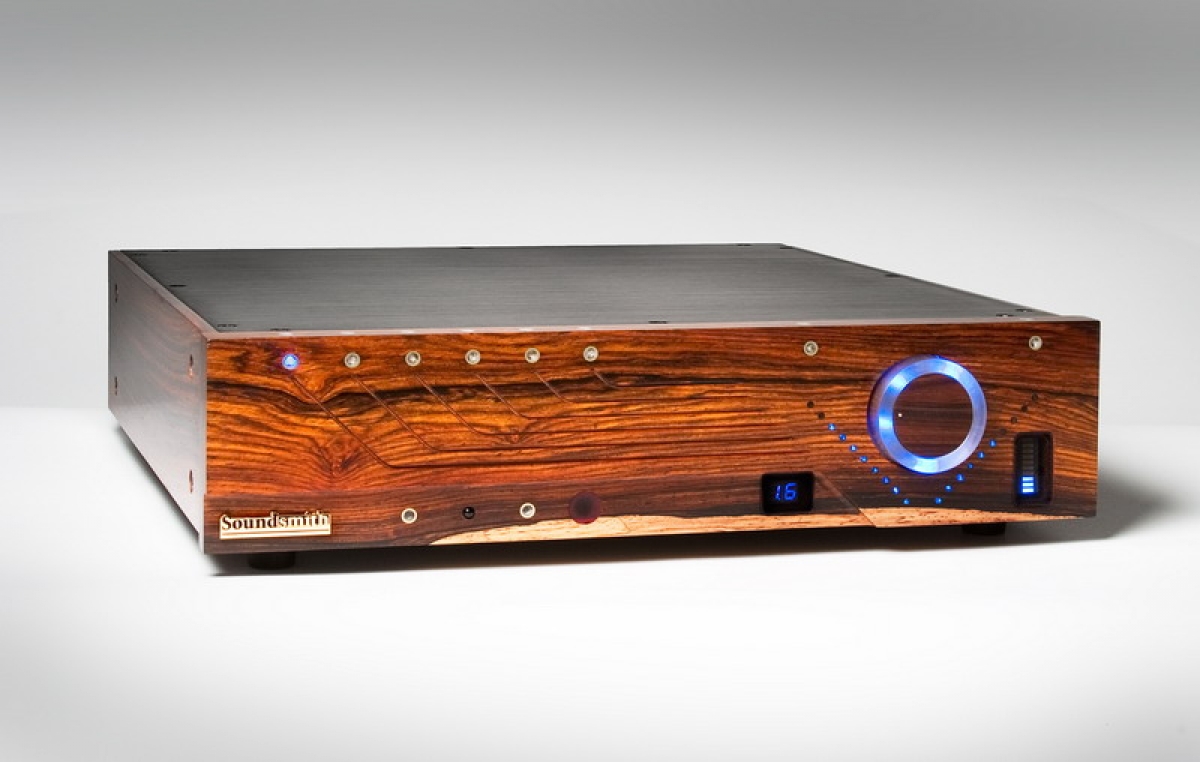 Above: Our Flagship Strain Gauge Preamp - the SG-810
Entry Level SG systems: click this
By the way....All Soundsmith SG systems have user replaceable styli - VIDEO is HERE !
The Strain Gauge cartridge is not at all like any other cartridge....

 All other cartridges, whether moving magnet, moving coil, or moving iron, are "generators" - that is, you put motion in, and you get energy out... they generate a tiny voltage that you amplify and send to your speakers.

 The key here in describing all other cartridges is in the word moving......because all other cartridges MUST move a mass around - a magnet, and iron core with wires (moving "coil") or iron.

 All other cartridges are all magnetic generating systems, which require a mass to be constantly moved to generate a voltage. The Strain Gauge does not; the effective moving mass has been reduced by over 80%....allowing the stylus to stay in intimate contact with the groove walls.....and allowing the stylus to stop jittering - or "bouncing" in the groove as it now is not trying to move a "large" mass back and forth....
 Features:
Frequency response, DC to 70 kHz
 
No "RIAA" filter circuitry is required or used in our preamp - just one ULTRA clean gain stage (this is because the Strain Gauge is a "displacement" device, not a "velocity" sensitive device like magnetic cartridges - see below).
 
Compatible with standard "4 wire" tone arm wiring
 
User Replaceable Nude "Contact-Line" stylus w/Ruby Cantilever (varied stylus types available)
 
System Price includes Strain Gauge Cartridge and Soundsmith SG Preamp of your choice
 
"Fixed" Line level & +10 dB variable outputs, both Balanced and Unbalanced (via RCA jacks)
 
High Compliance design and freedom from low frequency saturation assures excellent tracking ability and performance with any tone arm
 
All preamp models now feature toggling between the Strain Gauge function and single or (multiple) line inputs for maximum hookup flexibility to your equipment
Low tracking forces with extreme precision
 
Compatible with any ½" mount headshell - uses STANDARD 4 wire tone arm wiring
 
Frequency response DC - 70 kHz with only 10° of phase shift in the audio band (rumble filter built in @ 12 Hz - passive type before single flat gain stage
 
Front panel displays for tracking force (digital readout), AC component of the vertical tracking force, force balance per groove wall, and record eccentricity! (on models 810, 610,and 600 only)
 
Fixed and variable, balanced and unbalanced outputs via RCA jacks. Our variable output will provide up to +10dB level, and may be used DIRECTLY into any amplifier with balanced or unbalanced inputs.
 
Advanced muting features: Automatic Cue-Up muting (works with any turntable, and is user defeatable), manual muting control, and fault-sensing auto-mute to allow "hot plugging" of the tone arm or cartridge with the volume up, thus eliminating buzz or transients (allows stylus cleaning, adjustments, etc....)
 
User replaceable styli available in varied compliance and configurations (Ruby & Aluminum cantilever, Nude Contact Line &, Elliptical Styli,78 Styli) Styli replacement costs from $350 - $950
 
IR Hand Held Remote for remote controlled models controls volume, mute, power (and input switching on the SG-510 and SG-810)
All models feature front panel finger "light-touch" control switches for power, manual muting and front panel lighting control (on models 810,610 & 600) allowing adjustable front panel lights from "automatic room lighting level" to variable intensity - full bright to off. (All other models have rear manual control for lighting intensity) Our lucite volume knob changes color to indicate the state of operation:  RED (standby); Yellow (auto-mute); flashing yellow (manual mute); Blue (unmuted - playing)
 
Our Strain Gauge cartridge requires specialized preamp circuitry, and is sold with any of seven models of Soundsmith's preamplifiers - All models have both fixed and +10 dB variable outputs - and can be used directly into an "aux" input on your preamp, or used DIRECTLY into any power amplifier.
 
All models have identical sonic characteristics and vary only in features:
 
SG-810 - Our top model is a multi-function preamp and full function Strain Gauge Preamp; It features the SG function plus 4 line inputs & tape monitor, Front panel "touch" & Remote control input switching, volume, mute and power with full Strain Gauge performance displays and lighting intensity control (auto room adjust or manual "linear control" from lights off to full bright)
 
SG-610 - Dedicated Preamp for Strain gauge Plus ONE Line input- Front panel "touch" & Remote control for volume, mute and power; full Strain Gauge performance displays; lighting intensity control (auto room adjust or manual "linear control" from lights off to full bright)
 
SG-600 - Dedicated Preamp for Strain Gauge - Same as 610, no remote control
 
SG-510 - Dedicated Preamp for Strain Gauge and full function preamp - SG input plus 4 line inputs & tape monitor; Front panel "touch" & Remote control for input switching, volume, mute and power  -NO DISPLAYS
 
SG-500 - Dedicated Preamp for Strain Gauge and full function preamp - same as SG-510, but no remote control
 
SG-410 - Dedicated SG Preamp Plus ONE Line Input- Remote & Manual control for Volume, mute & power
 
SG-400 - Dedicated SG Preamp Plus ONE line input - Manual Volume, mute & power
Specifications
 
 
width
height
depth
 
weight
Product Name
inches
cm.
inches
cm.
inches
cm.
 
lbs.
kg.
SG-410
 
15.750
40.005
4.125
10.478
15.500
39.370
 
18.50
8.39
IN SHIPPING BOX
33.500
85.090
9.500
24.130
20.250
51.435
 
28.50
12.93
SG-610
 
15.750
40.005
4.125
10.478
15.500
39.370
 
20.50
9.30
IN SHIPPING BOX
33.500
85.090
9.500
24.130
20.250
51.435
 
30.50
13.83
SG-810
 
15.750
40.005
4.125
10.478
15.500
39.370
 
20.50
9.30
IN SHIPPING BOX
33.500
85.090
9.500
24.130
20.250
51.435
 
30.50
13.83
SG-410/610/810 P.S.
6.250
15.875
3.250
8.255
9.000
22.860
 
4.00
1.81
Related Products
Strain Gauge Cartridge Systems