Soundsmith Wooden Headshell and half-inch Adapter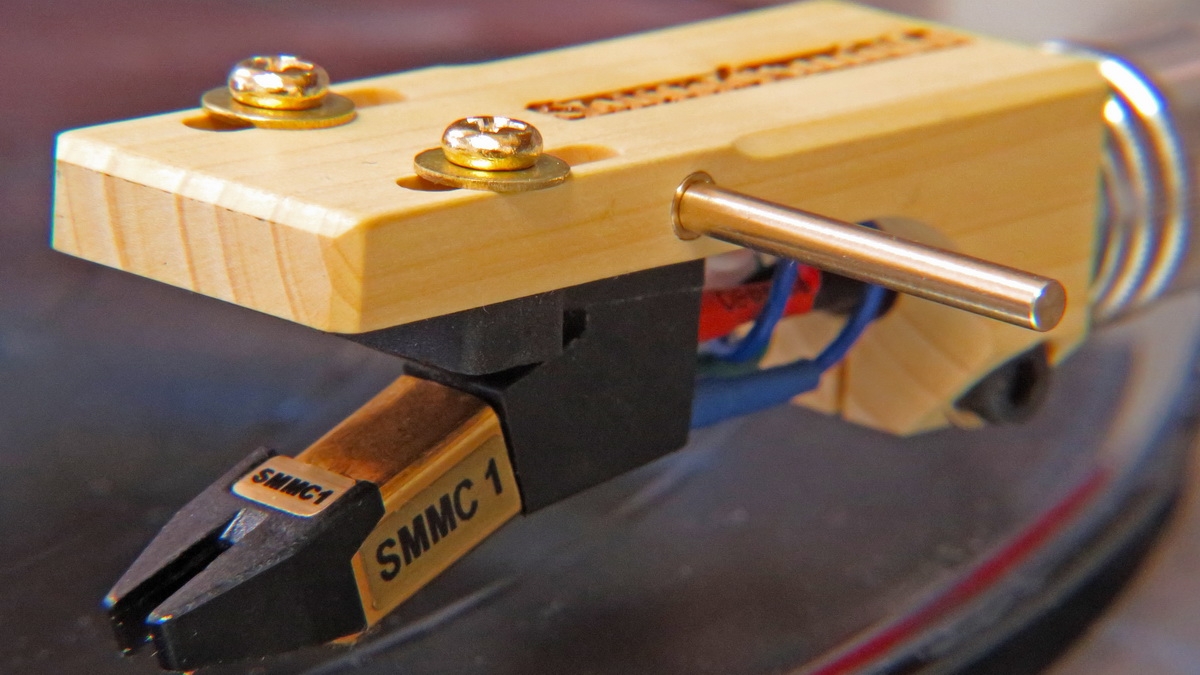 Three new products (scroll down for more details)
---
---
Soundsmith ½" Mount Adapter for B&OTM phono cartridges*
$79.95
½"  B&O Adapter (for Group 1 models): IN STOCK!! The Adapter weighs 1.92 grams
* For Soundsmith SMMC4,3,2,1 or MMC5, 4,3,2,1 (click THIS to see B&O cartridges - (They weigh 1.61 grams and have a compliance of 28)
Now you can use any of the newer B&O cartridge models on ANY  1/2" headshell TURNTABLE! Our new B&O adapter allows plug-in capability for the above models for use any turntable with standard 1/2" mounting holes ~
for Credit/Debit card, or PayPal purchase, use Add To Cart Button
79.95  SELECT YOUR LOCATION FIRST to get proper shipping fee, THEN add to cart
Select location for shipping fee amount, we can ship up to three items under the shipping fee, use the Additional Item option for 2nd or 3rd item, if you have already the shipping fee in your basket
---
---
Soundsmith Wood Headshell with Azimuth Adjust!
$99.95
Wood Headshell: IN STOCK!! Our NEW Soundsmith headshell features Azimuth adjustment, low mass (9.6 grams) and low resonance ~ insuring high mechanical energy transfer characteristics. Our new wooden Headshell is slowly machined from a specialty solid wood that features low weight and high strength for best cartridge performance. It is non-magnetic, and provides the highest energy transfer into your Tone Arm for best cartridge control and damping. 
for Credit/Debit card, or PayPal purchase, use Add To Cart Button
99.95  SELECT YOUR LOCATION FIRST to get proper shipping fee, THEN add to cart
Select location for shipping fee amount, we can ship up to three items under the shipping fee, use the Additional Item option for 2nd or 3rd item, if you have already the shipping fee in your basket
---
---
Soundsmith ½" Adapter for B&OTM phono cartridges & Wood Headshell Combo (see below)
Special! ($180 value!): $159.95
½" B&O Adapter with Wood Headshell: IN STOCK!!
For Soundsmith SMMC4,3,2,1 or MMC5, 4,3,2,1 (click THIS for B&O cartridges)
for Credit/Debit card, or PayPal purchase, use Add To Cart Button
159.95 SELECT YOUR LOCATION FIRST to get proper shipping fee, THEN add to cart
Select location for shipping fee amount, we can ship up to three items under the shipping fee, use the Additional Item option for 2nd or 3rd item, if you have already the shipping fee in your basket
---
Warranty:
Workmanship on this product is warranted for 2 full years
Related Products
The Voice (For B&O)
SMMC1
SMMC2
SMMC3
SMMC4