Soundsmith Carmen Moving Iron Cartridge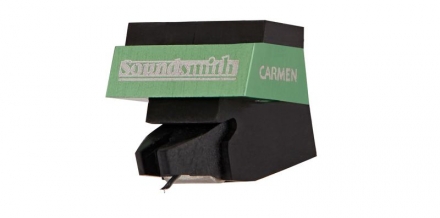 For those wanting a £4000 Sussurro but don't have the money, the Carmen gets pretty close for considerably less.
Janine Elliot takes a listen to the Soundsmith Carmen Moving Iron Cartridge that is made in the US and costs £759.00.
My own collection of Cartridges has morphed from Ceramic to Magnetic, to MM, MI and MC. Then along came Soundmith, one of those companies you wish you had always known. When I first heard their SG-200 I saw the light, not least because of the two LED's glowing to show power was getting to the cartridge. The Strain Gauge cartridge is like no other cartridge.  Instead of inducing a signal voltage by motion by coils or magnets, the Strain Gauge cantilever movement deflects two minute silicon strain gauge elements. The blue lights are there to tell you that all is OK, and they are not electrostatic cartridges aka Stax of old, that some may have thought. And where the Strain Gauge's much reduced effective moving mass means a quicker and tireless response, the 'Carmen' up for review here uses their Moving Iron topology which means no heavy coil or magnet having to move about. Instead, a tiny ultra-low mass high-purity moving iron element wiggles about between an area of fixed coils and permanent magnets. This means an effective tip mass of only 0.35g, and me setting my Rega 301 arm to 1.4g on my Townshend Rock 7. Whilst the design has a fixed permanent stylus assembly similar to that on a moving coil cartridge, it actually needs to be fed to the Moving Magnet input of your phono-stage, if you have a choice. ...
Product(s) Reviewed: